Any homeowner can look at the yard and see that they have a drainage problem. Yet we see so many spend money cosmetic landscaping and ignore their obvious problem with drainage. Drainage issues are not only visually unappealing, but they can also lead to more serious damage if not dealt with.
Importance of Proper Drainage – If your property does not have good drainage then at some point you will encounter issues with your outdoor living space.  It's just a matter of time and the real question is how much damage could happen to your home?  If you have a pond out in the back yard, it's probably not the end of the world.  You should consider installing a drainage system in your yard.  Now if there is water that will not drain away from your house and slab it could be a very serious problem costing thousands of dollars down the road.
Residential Drainage Systems are simple… Water runs downhill and having something that hinders water from moving that way causes a drainage issue.  Let the professionals at Conroe Sprinkler come out and propose the proper backyard drainage design.
Overflowing Gutters and Flooding from Downspouts
When we get heavy rain in this area, it's a lot of water very fast. We have Texas-sized thunderstorms that will put any drainage system to the test. Not having proper drainage will cause pooling and possible flooding around your the bottom of your gutters or downspouts. This can quickly ruin your landscaping and cause damage to your home. A good drainage system will funnel water as well as debris away from your home.
Drainage System Installation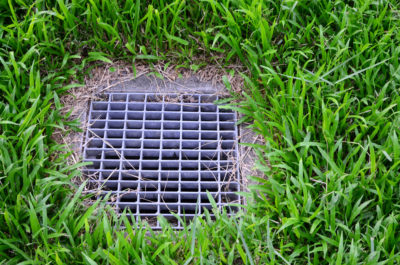 It is very important to have proper yard drainage. Drainage is inexpensive compared to the serious issues caused by standing water. Standing water in your yard and erosion around our slab are very serious issues. Call Conroe Sprinkler today and get a price for your Drainage System Installation.
Standing Water in Your Yard
Standing water in your yard is unsightly and bad for the grass.  Standing water can also be a health issue.  Stagnant pools of water encourage bacteria growth and are breeding grounds for mosquitoes.  We have plenty of mosquitoes in Texas already.  We are sure that your neighbors would not appreciate you breeding them vs handling your drainage issues.
For the concerned parents, not to be confused with hypochondriacs… Common bacterial infections from stagnant water include E. coli, Campylobacteriosis, and Cholera. Did you know that it only takes mosquito eggs 24 to 48 eight hours to hatch after being laid in water? In as little as 7 days you could have a mosquito infestation in your back yard.  Just think, our simple drainage systems eliminate standing water.  Now you can have a great looking yard and functional landscape without breeding millions of West Nile carrying, heartworm spreading, and Encephalitis giving mosquitoes. For all of these reasons, your neighbors will thank you for calling Conroe's best yard drainage contractors. Click below to call us today!
Drainage System Conroe, TX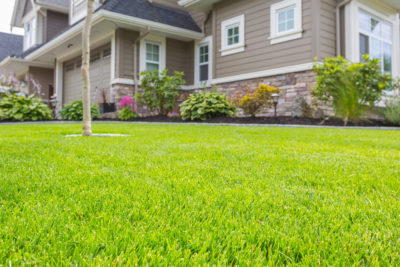 Another consideration if your yard doesn't properly drain is soil erosion. The most expensive place on your property to worry about erosion is close to your home's foundation. Rain water overflowing out of gutters, no gutters at all, or a lack of drainage close to your house can all cause erosion. A quick Google search will tell you that foundation repair on Conroe is expensive! It's actually expensive everywhere in Houston. So proper drainage is critical around the foundation of your house to avoid these types of costly repairs.
Call Conroe Sprinkler today and ask about our lawn drainage system!
Book Your Appointment Today!
Cost to Install a Sprinkler System varies by sprinkler system brand, design, size of yard, and number of zones. Call Conroe Sprinkler now or click below to book an appointment.