Sprinkler Installation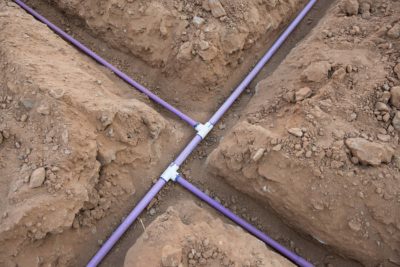 Are you considering investing in a new lawn sprinkler system? We are here to help you improve your landscape irrigation needs through an affordable, professional sprinkler installation. Our Conroe sprinkler systems offer optimally designed solutions for both commercial and residential property owners.  We have done this for a couple decades now and know how to design a sprinkler system.
High-Quality Systems
Here at Conroe Sprinkler, we use only the highest quality systems on the market. All of our products are supplied by leading companies, and we carefully optimize our installations to the needs of each client's specific landscape using a fine-tuned process developed through more than 23 years of professional experience. As a result, you can rest assured that you're getting one of the best long-term solutions in the area.
Our systems will leave you feeling confident that you can satisfy your landscape-watering requirements with ease and without worry. You will also benefit from increased values of your commercial or residential property. Not only will you save significant amounts of water, but your landscape will flourish beautifully. By the same token, if your existing solution is struggling, consider contacting us for help. We are one of the most reliable Conroe Texas sprinkler companies who can repair your system and get your landscape back on track.
Benefits of a Sprinkler System Installation Conroe TX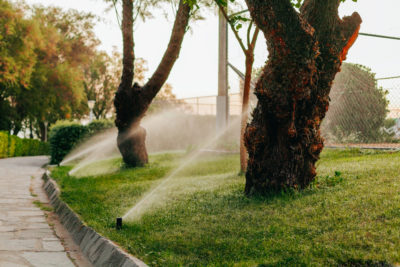 There are a number of benefits to consider when choosing a high-quality system. You can:
Enjoy a well-irrigated and beautifully designed garden or landscape.
Improve your property value with healthier plants and greener grass.
Ensure your plants and landscape are receiving the correct amount of water.
Reduce the risk of under-watering or over-watering areas of your landscape.
Save water by reducing the amount used by as much as 50 percent.
Cut costs due to no longer needing extra watering tools such as a garden hose.
No longer worry about remembering to water your garden or landscape.
Professional Irrigation System Installations
When investing in an automated system, your best bet is to work with a professional who can expertly and efficiently install the unit. This will help to reduce the likelihood of requiring repairs down the road. Here's why you should consider our company for your irrigation needs:
23+ Years of Experience
Our experienced irrigation professionals will come to your commercial or residential property and plan the initial design based on your current — and potential future — landscape irrigation requirements. Our technicians will also recommend the most effective ways to optimize the new system for your property.
With so many companies to choose from, you can bet we pride ourselves on our commitment to customer satisfaction. We make sure each client is thrilled with our installation and design services. You can rely on us to properly install and irrigate your property.
If you already have an irrigation system, you can call us for your sprinkler system repair too.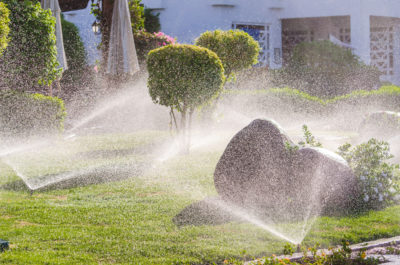 Design and Installation
Our experts are careful in making sure we meet your landscape requirements. We strive to improve the health and beautify of your property's landscape for the long-term when installing your new system. We use only the most effective sprinkler and irrigation parts in the industry.
If you are looking for a long-term, efficient, and cost-effective landscape irrigation solution, contact us today and ask about our products. Automated irrigation systems are guaranteed to improve the value, appearance, and health of your landscape and property. We have been in the industry for over 2 decades, and we are here to help you get your new system up and running within the shortest amount of time possible.
The absolute best time to water your grass is in the early morning. This allows the absorption of water when it is cool and less evaporation occurs. This lets the roots to grow deeper and avoid dry lawn woes. You don't have to worry anymore about over or under watering when you own a sprinkler system.
Thousands of dollars can be saved on properly watered lawn. Gone are the days where you over water parts of your lawn. These errors can add up over time. Water sprinkler systems offered today have rain sensors, so you are never over watering your lawn and maximizing the dollar.
A Rain Bird Sprinkler System will use less water over time. With Conroe Sprinkler setting up your water system, we can even account for dips and hills to water the correct amount for that given landscape scenario using an automatic sprinkler timer. You don't have to have standing water or brown patchy areas when you have a sprinkler system.
The days of watering your yard with a hose or constantly moving store bought sprinklers from one side of the yard to another are gone. You don't have to worry about spending any time out there struggling to keep your yard alive.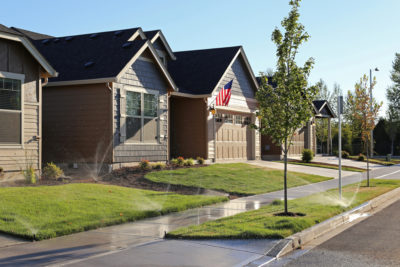 Owning a sprinkler system will have a positive impact on a potential buyer. A homeowner with a well-kept lawn and sprinkler system upgrade will usually get more at resale. When it comes to deciding between two homes, the one with a sprinkler system and green lawn will be chosen over another home that doesn't with brown patchy areas.  More times than not, the sprinkler system cost will be covered when time to sale.
Sure there is probably a cost effective do it yourself sprinkler system, but did you know that you must be licensed to install, test or repair a backflow prevention device or cut into a mainline?  No way to properly handle Irrigation System Installation and not install any backflow.  Call us today and get the sprinkler installation that you deserve.  Done right the first time.
Book Your Appointment Today!
The cost of a Conroe Sprinkler Installation varies by sprinkler system brand, design, size of the yard, and the number of zones. Call Conroe Sprinkler now or click below to book an appointment.