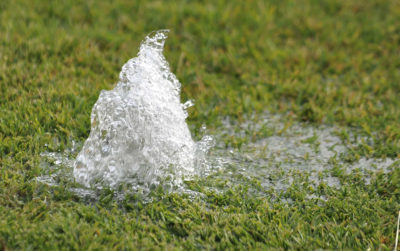 At Conroe Sprinkler we repair all types of sprinkler systems. Our Conroe Sprinkler Repair experts get the job done right the first time. We have decades of experience troubleshooting and repairing sprinkler systems. Our customers recognize our expertise and we receive referrals on a regular basis. We repair all parts of your irrigation system. Call us today if you need help with your sprinkler heads, sprinkler valves, sprinkler pipes, sprinkler timing systems, lawn sprinkler systems, or irrigation system. Our service team is available for residential and commercial sprinkler repairs.  There is no sprinkler repair too big or too small that we can't handle.
A damaged sprinkler head is the most common type of sprinkler problem we encounter. The signs that a sprinkler head is damaged are usually pretty easy to see. Most likely you will notice a bunch of water around the bad sprinkler head. Leaking water causes higher water bills and discoloration of your grass. This sprinkler repair doesn't cost much money so it is important to repair or replace these issues. We repair all types and brands of sprinkler heads. Many people ask how a sprinkler head gets damaged. Well, most of the time it is from a lawn mower, but sprinkler heads can get damaged in several ways. Driving over them in a vehicle and improper installation are two more very common causes of damage.
So what do you do if you notice a broken sprinkler head? First thing is to shut off your sprinkler system to avoid flooding in your yard and all that wasted water. Then pick up the phone and call Conroe Sprinkler. We handle home irrigation repair every day and are one of the best sprinkler system repair companies around Conroe!
Broken Sprinkler Valve
There are a couple of ways to identify a broken sprinkler valve. If the sprinkler valve is not turning on, you can get a dry area in the yard. When the sprinkler valves won't turn off, you'll notice sprinklers will not stop all water when turned off. Also, you could notice some pooling of water in the area. Either way, you should call Conroe Sprinkler at the first signs of trouble. Our experience lets us diagnose and repair any broken sprinkler valves. prevent a significant waste of water.
Sprinkler System Repair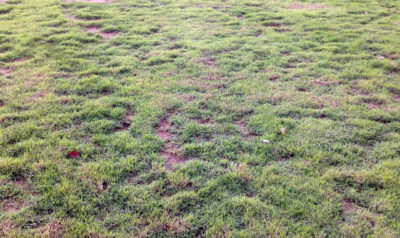 There are residential sprinkler repair companies in Conroe, we appreciate you reading about us, and how we can solve your lawn sprinkler repair needs.
Sprinkler System Repair Services include
Preventative maintenance – To ensure the best performance possible, it's important to maintain your system throughout the year. Residential and commercial sprinklers are an investment for your business and your home. In order to avoid costly sprinkler repairs, we can offer maintenance services and expert advice that allow you to move from season to season with minimal sprinkler complications.
Water efficiency optimization – We take pride in our ability to optimize your water efficiency. Whether you need to improve water flow or your drainage system simply isn't working, we can help. We can also save water by avoiding specific parts of your property such as parking spaces, yards, waterways, tracks and other unused or unfrequented areas.
Ongoing support – We are here to help make sure your irrigation system works year after year. Conroe Sprinker is available for email and telephone consultations. One of us will come to your property to make sure that any installation or sprinkler system repair process goes as smoothly as possible.
Replacement sprinklers and parts – In many cases, expensive repairs may be avoided by replacing parts instead of the whole system. Here at Conroe Sprinkler, we stock a full selection of replacement sprinkler system parts, pipes, valves, and sprinklers so that you can have what you need when you need it.
Book Your Appointment Today!
Cost to Install a Sprinkler System varies by sprinkler system brand, design, size of yard, and number of zones. Call Conroe Sprinkler now or click below to book an appointment.