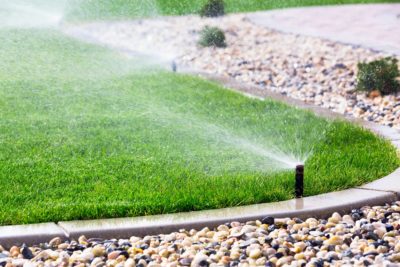 Why accept less than the best? Conroe Sprinkler is a family owned business with decades of combined experience. We repair any sprinkler system and install durable and high-quality sprinkler systems at affordable prices that can cover any residential or commercial location. Sprinkler repair Conroe, TX is our home and we would love to take care of yours. Conroe Sprinkler has many years of experience and the skill to do the job right the first time. During your service visit, we can check to ensure their performance is optimized and provide a tune-up if necessary at that time to create a greener lawn and save you more money from overwatering. Our sprinkler company offers sprinkler system repair, emergency sprinkler repair, water sprinkler installation, winterize sprinkler systems, and french drain installations in Montgomery, Willis, and Conroe, TX. Our sprinkler technicians will travel to surrounding cities to care for your lawn. Stop wasting money and call Conroe Sprinkler today (936) 213-0604!
With so many Conroe Texas Sprinkler Companies to choose from, Conroe Sprinkler treats you as family. It starts with the first call. You can bet we take pride in our customer's satisfaction. We have years of experience to tackle any dying lawn. Conroe Sprinklers will always come with the tools necessary to care for your sprinkler system, drainage issue, difficult landscape, and defend your property from easily flooded areas threatening your foundation. Conroe Sprinkler will promote a healthy green landscape, while saving you time and money on water.
Our irrigation company offers quality sprinkler system installation, sprinkler system repair, winterize sprinkler systems, and drain system installations. Conroe Sprinkler uses the highest standards in sprinkler system design and selects the best equipment possible to create your Oasis. Our dependable sprinkler technicians will arrive on time at the appointment you made. From the first consultation, you will know we listen to what our customers want and help with any of their needs. You will be excited to do business with us. Our competitive pricing has made Conroe Sprinkler a recognized leader in the sprinkler industry and will make it easy to do business with us.
You know you need a good Conroe Sprinkler Company to come look at your system if…
Clogged sprinkler nozzles
Concerned about your pipes freezing this winter
Sprinkler system will not work properly or turn on
Broken valves or broken pipes
Lawn is not green during the summer months or has some dead patchy areas
Sprinkler Repair
Discover you have pooling water on your property that continues to run
Inefficient sprinkler spray patterns increasing that water bill
Landscape Drainage problems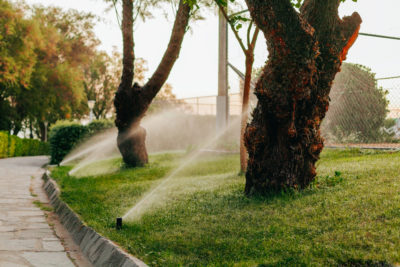 When you call on Conroe Sprinkler, you can be sure that you will have your needs met and sprinkler woes solved.  Our professionals understand how it feels to be leaving for work and see water pooling down the driveway like it has been raining only it hasn't.  Our experienced technicians are here to fix your irrigation, landscape drainage, sprinkler installation, or sprinkler repair. Conroe Sprinkler offers superior quality at affordable prices for all your sprinkler services and irrigation needs for both residential and commercial property owners.  
You don't get to be one of the best sprinkler companies without delivering the highest quality products on the market like Rain Bird and Hunter sprinkler systems. In addition, our pro sprinkler specialist will create a design layout with all important details in mind for your specific landscapes needs. Conroe Sprinkler will deliver you results that will keep your yard looking lush green year after year.
Leave the worry at the door, and watch while we satisfy all your watering needs. While appearances are everything these days, your home is not an exception to this. A green lawn shows potential buyers you care and that you take care of your home. That's how a sprinkler system increases your property value. If you ever need Conroe Sprinkler, you can rest assured we will always be there for you- for any repairs, maintenance, or replacement.
Lets makes your landscape beautiful, increase your homes value, save you time and money on water.  Call Conroe Sprinkler Today!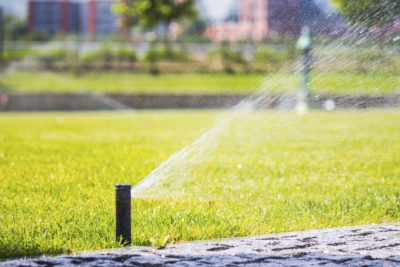 We offer a wide variety of home irrigation systems and design a layout to fit your needs. Conroe Sprinkler considers each individual's needs and takes into consideration their property or business location to determine the best design and system to ensure your landscape remains well-maintained and beautiful year after year. Our professional sprinkler technicians install lawn irrigation systems to ensure water is not wasted and ensuring adequate watering at every hill or dip in your landscape. Our team has the knowledge to install or repair your drip irrigation and will show you how drip irrigation can help prevent the foundation of your property from shifting. This will reduce risk of any settlement issues around the home or building.
When it comes to durable and lasting sprinkler system installations, you can count on Conroe Sprinkler. We ensure the highest quality sprinklers and best irrigation products available. Our specialists ensure professional irrigation system installations backed with a no stress warranty. That will put you at ease to know we have your water system covered and years of repair-free and maintenance-free enjoyment.
We love to help all our commercial and residential properties out with a new system, repair, or even a drain installation. Our specialists will take both your property and landscape needs into account while planning your design. These awesome professionals will show you the best way to enhance your system for the most efficient water system. When it comes to a beautiful green lawn, Conroe Sprinkler is the business you want performing quality work.
There are so many sprinkler systems to choose from. Our Rain Bird sprinkler systems are completely automated and no stress. You can live your busy life while our sprinkler systems do the work for you. If it's raining, your sprinkler system can be programmed by your specialists not to run the sprinkler system for two days or however long you wish. Our sprinkler professionals will optimize your system, so when they are done installing it is completely ready to run by itself. Rain Bird comes with a remote control which makes it that much easier to use your sprinkler system. Whether you have a Hydro-Rain, Irritrol System, Jain Irrigation, Toro, Orbit Irrigation, Rain Bird, or Weathermatic sprinkler system, we can help!
In addition to our easy to use irrigation systems, the most important reason to get one is to simplify your life and increase the value of your home. Our lawn architects and irrigation designers analyze the design of your property from flowers, bushes, trees, and gardens to ensure your sprinkler heads are in the best locations.
If you have any questions about your irrigation, just pick up the phone. We are the experts in repairing and installing sprinkler system. No need to stress about sprinkler system cost for installation or repair. We are very fair with our pricing with products and repairs that will last. Conroe Sprinkler's water system prices are unbeatable offering superior quality and clever designs.
Why Conroe Sprinkler?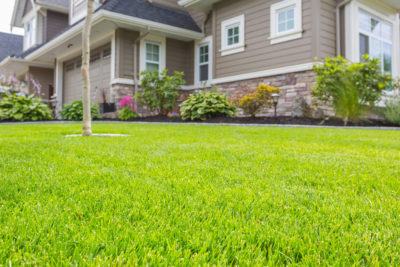 We have decades of combined experience and know our stuff when it comes to sprinklers and irrigation.  Our experience has helped us through nearly every sprinkler and irrigation system issue possible. Our technicians have dealt with broken lawn sprinklers that can't seem to pump out water to an unresponsive irrigation controllers.  Over the years we have seen it all.  We don't consider any job too big or too small.  If it is a small repair though we typically run through your entire system and make sure that everything is running perfectly before we leave.  Conroe Sprinkler is here to help.  We'll guide you through the selection of your system, the layout of the zones, and the proper use of your irrigation system.
Book Your Appointment Today!
Cost to Install a Sprinkler System varies by sprinkler system brand, design, size of yard, and number of zones. Call Conroe Sprinkler now or click below to book an appointment.